6mm EGT Sensor
Submitted by jason on Mon, 08/08/2011 - 10:39
Published in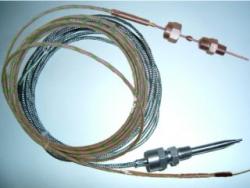 SKU: egt6mm
Fast acting due to small tip size, but extremely durable due to 6mm body. Perfect for turbo applications.
This sensor is manufactured specifically for VEMS and not available elsewhere.
Comes with 1/8" NPT stainless steel fitting for ease of installation. You can either add a 1/8" NPT bung or weld this right to the exhaust. Typically placed pre-turbo for best results or right at the exhaust port or collector for non-turbo applications.